Schedule
The Civic Association Coronation Bratislava and BRATISLAVA TOURIST SERVICE with partners and sponsors prepare Coronation celebration 21 - 23 June 2013. Authentic coronation ceremony will be held in old town. Coronation celebration will be spectacular as usual with authentic rite, royal dignity and great atmosphere in the city. We commemorate already the 11th coronation in Bratislava - coronation of Leopold I. from 1655. The program we will precise continuously.

23 June 2013
14.00 Coronation procession and portage of the St. Stephen`s crown from the Bratislava Castle to Old town

15.00 Coronation ceremony of King Leopold I. - Hlavné námestie - square

16:15 Dubbing of the Knight of the Golden Spur - Hviezdoslavovo námestie - square

16:30 Coronation Oath - Hviezdoslavovo námestie - square

16:40 Coronation Hill - Hviezdoslavovo námestie - square

21-23 June

Historical market - Hviezdoslavovo námestie - square

Krušovice beer festival - Hviezdoslavovo námestie - square

Blaufränkisch wine festival - Hviezdoslavovo námestie - square
The rite of coronation of the King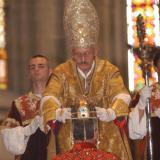 The theatrical show of the authentic rite of coronation of Hungarian King Leopold based upon the historical documents is the heart of the Coronation celebration. The King receives the coronation insignia from the representatives of church in the presence of the highest aristocracy and the representatives of the clergy.

Date: 23 June 2013

Time: 15:00

Place: Hlavné námestie - Main square

The Dubbing of the Knights of the Golden Spur

Time: 16:15

Place: Hviezdoslavovo námestie - square
Transfer of the St. Stephen's crown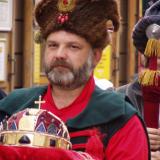 Since the year 1608 the coronation insignia were safely placed and guarded in the Coronation Tower in the Bratislava castle. Just before the very beginning of the coronation celebration, the crown was transferred to the coronation cathedral with a great splendour.

Date: 23 June 2012
Time: 14:00
The Coronation procession
The coronation procession of the royal couple with its princely court, imperial family, representatives of the aristocracy, church dignitaries, and military units was an event worth seeing. Also nowadays the procession is among the greatest events of the coronation celebration. During the procession the coronation coins will be thrown to the people.
Date: 23 June 2013

Time: from Castle 14:00

Wine in fountain
Wine in fountains during rustic entertainments in the past always received lots of attention. In 1608 the King Matthias II. donated 60 barrels of good wine to his folks during his coronation celebration. We respect our good traditions and wine will flow from fountain this year too. Maybe:)



Fireworks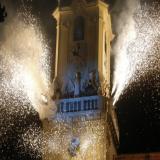 Pyrotechnics were among favours of the crowds ever since. During the first coronation celebration in the year 1563 the fireworks caused a fire and a part of the town burnt down. However, the inhabitants of Bratislava never abandoned this special event.



Historic crafts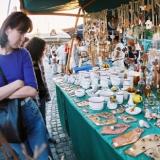 At the last year Coronation celebration there were more than 220 historic craftsmen. Many of them show manufacturing in an authentic way. The number of the craftsmen increases from year to year. In Bratislava this year there will be the greatest historical market in Slovakia.

Date: 22 - 24 June 2012

Place: Hviezdoslavovo nám. - square
Taking pictures with huge royal puppets
Their royal majesties the Emperor Maximilian and his wife will be walking in the streets of Bratislava. They will be there for all visitors to commemorate, that they are in the famous Coronation City.



Shooting from historical weapons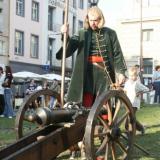 During the coronation of Maria Ludovika the members of Bratislava shooting fellowship organised shooting at targets. There were nine prizes for the best shooters. Some of the targets are now used in collections of Bratislava City Museum. Visitors of this year's celebration will not lack this kind of entertainment.



Coin Striking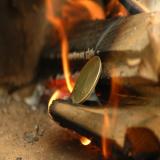 The city of Bratislava received this privilege in coin striking from Sigismund, the Holy Roman Emperor. However, during the times of coronation celebrations coins were striked in the royal city of Kremnica, hand made striking adds up the colour of nowadays coronation celebrations.

Children Knights Tournament

For the youngest novices of the knightly status we have prepared an iron pony, knight armour and a spear. Everything else depends on the skills of young knights to hit a ring. After showing valour and chivalrous bravery, the young knight will get a royal degree and will the knighted as the knight of the Golden Spur.