There are only few cities in the world that hosted coronation ceremonies. Bratislava was honored to be coronation city for long 267 years when 10 Hungarian kings , 1 queen and 8 royal spouses, rulers of Czech and German lands, some of them Emperors of the Holy Roman Empire were crowned here. By these acts the central European region was united, the history of Europe and whole world was changed. But how Bratislava became Coronation City?
Everything started with the Battle at Mohacs in August 1526, when Hungarian troops were overridden by Turkish army. King Louis II perished in this battle. He left no heir therefore a new fight over the royal crown begun between the richest Hungarian nobleman John Zapolya, who was supported by lesser nobility and Ferdinand I, supported by higher nobility and the royal court. John Zapolya was elected King in Belgrade on November 10, 1526, the day after he was crowned King of Hungary. Ferdinand did not wait. He called all his supporters to Bratislava and got elected king on December 26, 1526.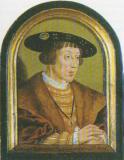 Long lasting fight began. A truce was finally concluded in February 1538, John Zapolya and Ferdinand agreed to rule over certain parts of the country. Zapolya ruled in Transylvania, Central and Eastern Hungary, Ferdinand ruled in Western Hungary including current territory of Slovakia. One of the important towns for Ferdinand in this region was Bratislava. The town has from the beginning taken his side, he was elected king here, and Vienna was close.
The position of Bratislava was also important. The town was protected by Danube River before further expansion of the Osman Empire. Due to this Bratislava was elected capital of all Hungary in 1536. In 1540 John Zapolya, the biggest rival of Ferdinand died and Ferdinand claimed again the right to rule over all Hungary.
The escalation of troubles continued and Turks besieged all the central Hungary in 1541, including the royal seat Buda and in 1543 the traditional coronation city Belgrade. Hungary was thus divided into three parts. Central Hungary became part of Osman Empire. Transylvania became an independent principality under protection of Osman Empire. Western Hungary belonged to Ferdinand. Bratislava was capital till 1783 and seat of Hungarian Concilium till 1848.
Ferdinand pursued the idea of strengthening the influence of the Habsburg Family in the region. Therefore he pushed through the crowning of his son Maximilian during his life. Coronation ceremony took part on September 8, 1563 on Virgin Mary Day in St. Martin's Dome. This pompous ceremony was attended by Ferdinand as Emperor of the Holy Roman Empire. But at those moments nobody knew a new important tradition of coronation ceremonies started and lasted long 267 years, till 1830.