Plaque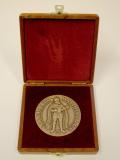 During coronation procession were jetons thrown to the people as a token of coronation of each king or queen. We refreshed this tradition. During the event Coronation celebration the Kingf or the Queen throw dozens of new coronation jetons.
Academic sculptor Ľudmila Cvengrošová ia the author and jetons and plaques are incused in Kremnica - one of the longest functional company in the world from the year 1328.
Modern coronation jetons are gold-plated - a king or silver-plated-a queen.
On the tails is a theme of Braislava with a St Stephen Crown and the year of a modern coronation.
On the front side is a picture of a ruler with all titles a a date of original coronation ceremony in Bratislava.
.

Modern coronation jetons you can buy separately in transparent cover or as the whole collection of all till today passing ceremonies in exquisite wooden casette.
The size of jeton is 27 mm.

More demanding clients can choose plaques - size 60 mm. Either in plastic or in exquisite wooden casette.
You can decide between single plaque or collection of all from 5 years.

Price:

Coronation jeton in transparent cover: 100 Sk
Pack of 4 coronation jetons in wooden casette: 1000 Sk
Coronation plaque in wooden casette: 800 Sk
Pack of 4 coronation plaques in wooden casette: 3000 Sk


T-shirt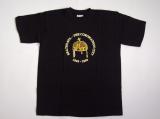 St Stephen crown is one of the most valuable coronation jewels in the world. Due the tradition was given to the founder of Hungarian kingdom from pope Silvester II in the year 1000. A long time was the crown stored in crown tower of Bratislava castle. Picture of the crown with years during them was Bratislava coronation city is a central theme on T-shirt.
Colour: white, red, dark blue, black. Weight: 165 g.
Size: XXL, XL, L, M, S
Price: 250 Sk
Poster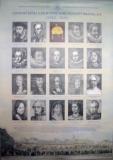 By 440th anniversary of first coronation we printed an A2 poster with all kings and queens who took the crown in Bratislava in St Martin Cathedral. At the base is a part of colored litography of coronation procession of Karolina Augusta from the year 1825.
Price: 80,-Sk
Postcard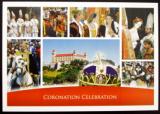 The postcard CORONATION CELEBRATION has to commemorate the biggest culture evvent in Slovakia. On central picture is Bratislava Castle - the royal residence of hungarian kings with the St Stephan Crown. Other pictures are from theatrical production in St martin Cathedral and coronation procession in streets of Bratislava. This postcard you get for free if you join to one of our tours.
Cena: 7 Sk
DVD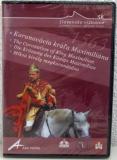 Bratislava je jedným z mála korunovačných miest na svete. Od roku 1563 sa tu konali korunovácie uhorských kráľov. Film zachytáva zrekonštruovaný autentický obrad korunovácie v Dóme sv. Martina, obrad pasovania rytierov zlatej ostrohy, korunovačnú prísahu i korunovačný pahorok v rámci podujatia Korunovačné slávnosti 2003. Spolu s pútavým priblížením histórie umožňuje i náročnejšiemu návštevníkovi porozumieť korunovačnej histórii Bratislavy. Film je vyhotovený v štyroch jazykových mutáciách: anglickej, nemeckej, maďarskej a slovenskej. Trvanie: 29min
Price:
500
250,- Sk