Introduction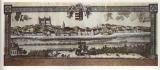 The royal insignia were transferred to the coronation city. The insignia included the crown, sceptre, the royal apple, St. Stephen`s sword and the coronation coat These were all safely placed in the Coronation Tower in the Bratislava castle, where they waited for the day of the historical event.
The Crown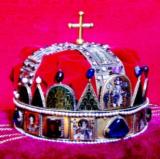 The Hungarian crown is among the most significant of the medieval artifacts connected with the name of the first Hungarian king - Stephen. Due to him the crown bears the designation "crown of the holy king". It was under his rule in the year 1000 that Hungary (including also today`s Slovakia) became a member of the Holy See. Thus began the history of the Hungarian kingdom.
This relic cames from the end of the 12th century and consists of the older Byzantine headband, "corona greaca" (made of mail plating with precious stones and pendants) and a younger "corona latina", closing the spherical cross of the crown. On the top is the ending gold cross, which is considered as the most important part of the crown. It is connected with the relic of the Holy Cross and it is said that whoever possesses the crown will also rule.
The Sceptre
The royal sceptre has been part of the coronation treasure since the end of the twelfth century. It consists of a sphere of Hungarian crystal with a relief of three sitting lions. It is the work of an Iranian-Persian master of the tenth century. The sphere is additionally set in a sixedged silver handle, adorned with gold filigree. It was probably prepared for King Bela III.
The Apple
The royal apple is the youngest Hungarian royal jewel. It probably became part of the treasure during the government of Ludovit the Great, from the family Anjou, in the first half of the fourteenth century. It consists of a hollow gold-plated brass sphere, originally filled with earth from Golgota and it is decorated with a gold apostolic cross and two family emblems of the Anjou family.
The Sword
The coronation sword is a replacement for an older sword, which is believed to had been worn by St. Stephen, the king. It was probably made in the 16th century in a Venetian workshop. During the coronation ceremony the Hungarian king uses the sword to knight the knights of the Golden Spur.
The Coat of St. Stephen
One of the coronation insignia which is directly connected with the first Hungarian king, Stephen I., is the coronation coat. It is a vestment of purple silk, sewn with green roses and embroidered with a multitude of figures of saints singing hymns of praise.
Sandals, stockings, gloves and other parts of the coronation clothing were irretrievably destroyed in the revolutionary years 1848 - 1849 when they were buried out of fear that they would be misappropriated.