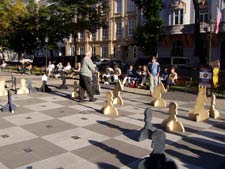 Bratislava is a fantastic place where to spend your City break, not only because it is a good place to shop ...
Bratislava may be a small but perfectly adapted city. Capital of Slovakia offers great opportunities to spend the weekend in European standards. You can find architectural sights of all historic periods – from gothic, baroque to memorials of communist era.
Of course Bratislava is not only architectural monuments located in the centre. Tourists are attracted to visit Bratislava especially because accommodation and food is extremely cheap as compared to other EU countries. This is why it is a bargain (probably possible only in Slovakia) to stay in Bratislava longer and make trips to nearby Vienna, Budapest or Prague. And this is only one of the advantages which Bratislava offers to visitors.
Even if Bratislava was overlooked in the past today is really worth visiting. Famous is the rich heritage left here by Habsburgs - compact, homogenous city centre with baroque palaces and gothic monuments. Centre of Bratislava has developed its own genius loci; tourists are welcome by numerous cozy cafes, wine shops and restaurants. And all they are cheap.
Bratislava is really worth visiting. Believe us; we are sure your neighbors have not been here before …