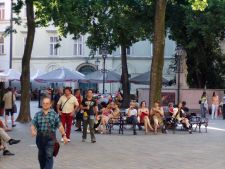 To experience the unforgettable City Break in Bratislava we recommend using some of the low cost airlines (Easy Jet or Sky Europe Airlines), they connect Bratislava with almost every European country. Bratislava really can be proud of being a traffic junction for these companies. You can book your direct flight to Bratislava from London, Manchester, Copenhagen, Paris, Milan, Zurich, Berlin, Stuttgart, Luton and other destinations.
Through our site you can book accommodation that would suit your needs: from luxurious hotels to simple hostels (hostels in Bratislava are maintained very well, they are clean, dry and safe).
From Bratislava airport you can travel to the hotel by taxi, or you can (with our help, too) rent a car, that will wait for you at the airport.
Your program could be as follows.
Especially we recommend these activities:
Guided tour of Bratislava monuments – we offer tour everyday, start is at 2 PM at the information office at Ventúrska street 9 (Zichy' s palace). Professional tourist guide will walk you in two hours through the most important monuments of Bratislava for only 450,- Sk (14,-Euro).
Visit of Jewish Cultural Monuments with professional guides. Visit includes Jewish ghetto, Jewish street, as well as visit of the Museum of Jewish Culture and renown Memorial of Rabbi Chatam Sofer.
Follow the steps of Hungarian kings - a walk through the coronation path, including visit of St. Martin's Dome, where 11 Hungarian monarchs, Empress Maria Teresia and 7 royal wives were crowned. Guide will lead you through the path to Franciscan Church, where noblemen were dubbed knights of Golden squid. You can visit the treasury of the crypt.
We offer much more other interesting tours, find HERE.
We recommend visit of the Museum of Jewish Culture, Museum of History – Castle, Gallery of the City of Bratislava, Komart Gallery and others.
Bratislava is well known for fantastic ballet ensemble. Another reason why not to miss show of the Ballet of Slovak National Theatre.
Picturesque cafes in the city centre offer rest and relax even to more demanding visitors. You can have nice rest and feel the relaxing atmosphere during your shopping trips. Bratislava is definitely the best place to shop.
Have lunch in one of the great restaurants.
A trip to Bratislava surroundings is really a good idea – we recommend the visit to Malokarpatský (Small Carpathian) region.
We are not afraid to claim that you will not only like your City Break in Bratislava, will be even absolute bargain, maybe one of the best in whole central Europe. Bratislava has low prices, offers accommodation in luxurious hotels in city centre and surroundings for moderate prices, food is cheap as well as shopping in general – either you go to boutiques on Obchodná (Shopping) street, or to big shopping malls. And that's not all! You can use comfortable transport to neighboring cities – Vienna, Budapest or Prague. Cost of travel is minimal, therefore you can safe money for expensive accommodation and dining in those cities.
If you decide to have your City Break in Bratislava, we will be gladly your companion, offer you the services of our information office and travel agency. We can help you to prepare and give shape to your City Break.
If you have any questions or requests contact us by phone 00421 – 2-54 64 12 71, or email us at: office@bratislava-info.sk.
Don't miss the chance to feel and savor Bratislava with every sense.