Information Office
Ventúrska 9,
Zichy´s palace
Bratislava
tel:
+ 421-2-2070-7501
office@bratislava-info.sk
Advertisements
Celts in Bratislava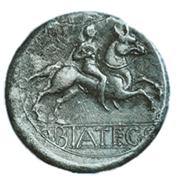 Celts in Bratislava

Area of present Bratislava was more than inviting for Celts to settle. One of the advantages was the strategic position on the Danube ford, high river terraces that enabled the settlements be protected from floods. This area was continually settled since Stone Age. Castle hill was settled first in Aeneolithic period and became so called ford guard. During Bronze Age and especially during Hallstatt period the "hill-fort" became seat of Bratislava chamber and of earls with their suits. Open settlements under the hill were exploited as agricultural background. The biggest development of this era took place in La Tene period (140 – 1 BC), a Celtic oppidum – economic and administrative center of proto-urban character was built around today castle hill area.

Study of Celtic remains is rather complicated because of the later construction development and is usually conducted as safe disclosures. Despite this fact more than 80 points are known that enable to reconstruct the approximate border of the oppidum with area of 20 hectares of Acropolis (Castle hill) and extramural settlements. North of oppidum in 500 m distance a production enclave with ceramic kilns was discovered (today Námestie Slobody).

Remains of fortification can be seen partially in a ditch with a stone mound. On Kapitulska street a brick erection was found in 1967 with a beam pillar, drain and rectangular corners which is interpreted as a gate a symbol of power and independence, symbol with same meaning in Mediterranean region today.

On several places houses of the oppidum inhabitants are marked. Oppidum inhabitants were craftsmen, apart of houses various storage rooms, production and manufacturing areas were found. Mainly fragments of furnaces, and mint manufactures on Panska and Venturska street. Remains of minting activities were found only in Bratislava region with such a big density. Coins alone were found in a huge number of 1500, from oldest local mintages, Bratislava types (golden BIATEC, BIAT) (silver BIATEC, NONNOS...) and other minor coins of simmerin type and youngest Nordic types (Eis, Magdalensberg, Karlstein).

Trade records come not only from coins founding but also from north Italian goods – imported metal products, (vessels, clips) and pottery - black sigillata and a fragment of antique amphora. Other remains of artifacts were found in this area, pottery, products from bones and stones, metallic instruments, keys, part of the plough and others. Oppidum was built in the later La Tene period (end of 2nd Century BC) and destroyed during the war conflicts. On Panska street remains of two older women, one man and a female skull were found. On the castle hill in burnt buildings remains of 10 people and several animals were found and elsewhere in the city we find testimonies of a very violent end of the settlement. Those who survived moved over to Devin or to the other side of Danube river, where they got under protection of Noric Kingdom which later became part of Roman Empire.
---