Information Office
Ventúrska 9,
Zichy´s palace
Bratislava
tel:
+ 421-2-2070-7501
office@bratislava-info.sk
Advertisements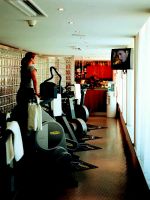 Fitness in Radisson SAS Carlton Hotel

Spend nice moments of relaxation and recreation in Hotel Fitness Centre on 7th floor, where you will find apart of exercise tools also massage, sauna, Turkish bath and an open terrace. Terrace offers wonderful views of Bratislava landscape, including Bratislava Castle, New Bridge or Danube River. Even David Beckham took advantage of the hotels' great massage offer upon his visit to Slovakia.

Body massage, 60 min.: 29 EUR (1 100 SKK)
Half body massage, 30 min.: 18 EUR (670 SKK)

---