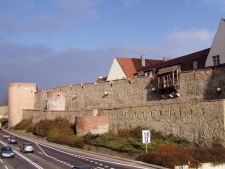 Bratislava has a long and famous history dating back 2000 years. Despite of this Bratislava is one of the youngest capitals in Europe.
First settlements in the area of present Bratislava dates back to 5000 BC. Around 100 BC Celts built first settlements on Danube River in Devin and Bratislava. Around this time the first Celtic mint was build where "biatecs", Celtic silver coins were minted. The territory south of Danube River was in 1st to 4th centuries AD part of the Roman Empire. Slavic tribes settled in the region of today Bratislava in 5th – 6th centuries AD.
Between years 623 – 658 a political formation known as Samo's Empire was created. In 7th – 8th centuries the area of Bratislava became center of Avars – Slavic Empire, an important trace in the history of Slovakia. Famous history of Slavic tribes started in 9th century, when the Greater Moravian Empire was established. At that time the surroundings of today Bratislava Castle became military, administrative and religious centre.
First written reference to the Devin Castle dates back to 864. Devin is described as strong border fortress of the Greater Moravian Empire.
First written reference to Bratislava (as Brezalauspurc) is found in Salzburg Annals. Reference dates back to 907 AD in connection with the fight between Bavarians and Hungarian Suites.

In 10th – 11th centuries AD Bratislava Castle was an important border fortress of Hungary and the seat of canonry and district administration. Bratislava principality was ruled by Hungarian King Stephan I in 1000 – 1038 AD.
The eastern side of Bratislava Castle hill was settled in 12th century.

Roman church of St. Salvatore was moved from castle to the area of today St. Martin's Dome.
Since 1291 Bratislava was granted several royal privileges by King Andrew II. to confirm Bratislava's position among Free Royal Cities which helped an extensive development of trade and crafts. In this period viticulture, international trade and various crafts flourished in Bratislava. But only in 1430 was the city granted minting privilege by King Sigismund of Luxembourg. Heraldic deed was also granted to Bratislava by Sigismund in 1436.
All privileges to the city were confirmed in 1464 by Hungarian King Matthias Corvinus by Golden Bull. King Matthias Corvinus established also the first University in today's Slovakia – Academia Istropolitana. It was in 1465.

In 1468 Bratislava was granted yet another privilege – of sword.
In 1526 in a Battle at Mohac King Louis II perished and Ferdinand of Habsburg was elected new king at a session in the Franciscan Church in Bratislava.
In 1536 Bratislava became capital of Hungarian Empire, seat of the synod and central administration. The most important is the fact that Bratislava became the same year Coronation town of Hungarian Kings and seat of the Archbishop (in 1543). Within years 1563 – 1830, during three Centuries, 11 kings and 8 royal spouses were coronated in St. Martins Dome.
17th century is known as the period of Anti Habsburg rebellions.
During the great plaque epidemic in 1711 more than 3860 Bratislava inhabitants died.
Empress Maria Theresa was coronated in 1741.
Construction development of the town started in 1775. This was the year when Maria Theresa ordered the City Walls to be pulled down.
Bratislava was famous as city of arts. Since 1776 the town was seat of the Estate's Theatre with permanent ensemble of actors.
First manufacture was open in Bratislava in 1780.
The year of 1783 is sadly known for Bratislava as the transfer of all central authorities to Buda and coronation jewels were taken to Vienna upon order of King Joseph II.
In 1805 after the fight of Three Emperors at Austerlitz the so-called Peace of Pressburg was concluded between Napoleon's France and Austria in the Mirror hall of the Primate's palace.
But as soon as in 1809 the town was besieged by Napoleon troups.

Bratislava Castle burnt down on May 28, 1811.
In 1818 first steam boat could be seen on the Danube River.
In 1840 first horse railway started the operation between Bratislava and St. George.
Slovak language was codified by Ľudovít Štúr and his followers in 1843.
In 1848 King Ferdinand V. signed and declared abolition of the serfdom by so called March Acts in the Mirror hall of the Primate's Palace.
On the place where Estates Theatre used to stand the Slovak National Theatre was built in 1886.
First bridge over Danube River, the Old bridge was built in 1891.
In 1895 first tram started to operate in Bratislava and in 1912 first trolley buses were used for public transportation.
In 1913 79 houses in the extramural zone were burnt down.
October 10, 1918 – Slovak national council was established governing Bratislava and surroundings.
January 1, 1919 besiege of the town by Czechoslovak legion and accession to Czechoslovak Republic.
In March 14, 1939 Bratislava became capital of the Nazi Slovak State.
April 4, 1945 – Bratislava was liberated by Soviet Army.
In 1946 villages Devín, Dúbravka, Lamač, Petržalka, Prievoz, Rača and Vajnory became part of Bratislava, so called Greater Bratislava was established.
February 25, 1948 – political upheaval of Communists secured all the power in the town and the country falling in their hands.
Upon signing the Agreement of Czechoslovak Federation Bratislava became the capital of Slovak Socialist Republic. Agreement was singed at Bratislava Castle.
Villages Čunovo, Devínska Nová Ves, Jarovce, Podunajské Biskupice, Rusovce, Vrakuňa a Záhorská Bystrica became part of Bratislava in 1971.
On November 27, 1989 citizens supported with general strike the request of the Verejnosť proti násiliu movement and Občianske forum movement to support student rebellions.
In January 1, 1993 Bratislava became capital of independent Slovak Republic.