Sport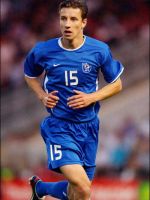 In summer most of us like to spend warm days sunbathing and swimming. In Slovakia there are lots of natural lakes or dams, where you can swim and scull a small boat.
Slovakia is a hilly country. Winter ski sport resorts are well equipped and usually full of skiers, snowboarders and all those who like winter.
Hiking paths in mountains are usually well marked and tourist maps are available for every region. You will meet hikers not only in Vysoké Tatry (High Tatras), but also in surroundings of Bratislava, in Malé Karpaty (Small Carpathian Range). Majority of those paths are used by bikers, too.
The most popular game in Slovakia is European football. It is quite a cheap game that one can play in a team. Almost every town and every village has its own football ground. We can say hockey is second most popular team game. But majority of Slovaks like to watch football rather that play it.
As for other sports, volleyball, basketball, tennis and golf are most favorite.